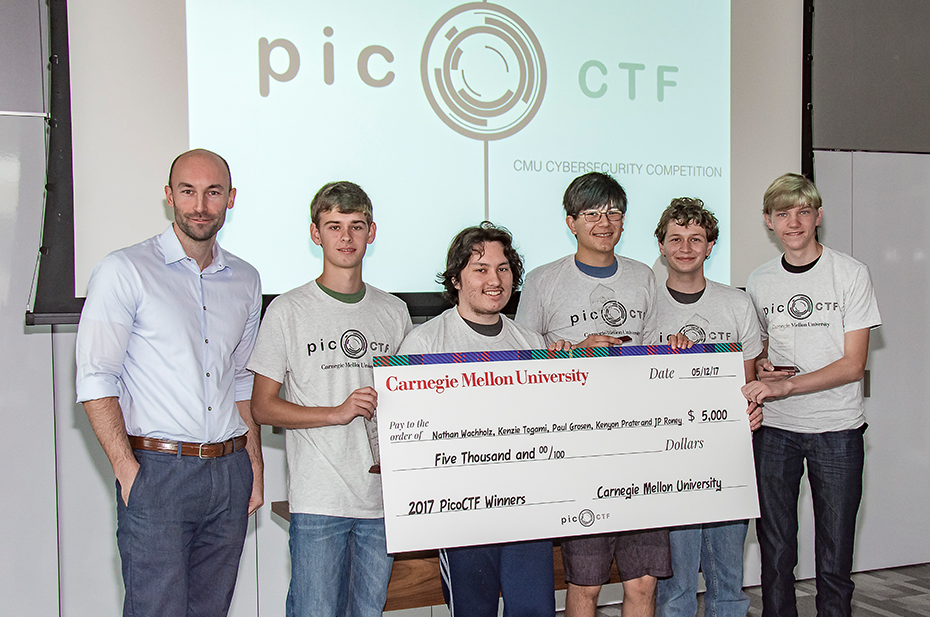 picoCTF: Hacking the barriers to cybersecurity education and workforce development
Cybersecurity is arguably the most pressing issue facing world leaders, educators, and society-at-large today, and the issue is exacerbated by a shortage of talent in the modern workforce. Currently, most people do not learn that cybersecurity is a viable career path until college, when most students have already chosen a career path to pursue. Those who do not or cannot enroll in college may never be exposed to the interesting and prosperous career fields in the cyber security community. By introducing and teaching young minds as early as middle school, picoCTF generates awareness and offers intervention for future education and career path decisions.
picoCTF's inaugural hacking competition in 2013 drew around 6,000 participants, and by 2019 that number grew to nearly 40,000 participants from all over the world. In 2020, picoCTF shifted the focus from strictly a hacking competition to incorporate year-round education features, which has increased participation to over 100,000 unique participants over the course of a single year.
Help us continue to remove barriers to access for everyone interested in security content relevant for this fast-paced and ever-changing landscape. Funding provided to picoCTF helps support the program's continued development and broaden inclusivity by keeping the platform free-of-cost to everyone.
Contact Megan Kearns to talk about ways you can help us increase outreach and impact through picoCTF.org. Direct sponsorship inquiries can also be made through CyLab's partnership team. Michael Lisanti, director of partnerships, and Terri Deasy, associate director of partnerships.
Raising awareness
CyLab's outreach and awareness programs provide web-based, publically accessible tools to raise national awareness of cybersecurity threats and to promote safe and responsible online behavior to citizens at all levels equipping them to meet the demands and challenges of being responsible computer users and cybercitizens.
Information assurance capacity
Carnegie Mellon University and CyLab have been designated by the National Security Agency as a Center of Academic Excellence in Information Assurance Education. This certification as a center of excellence is presented in recognition of a significant contribution in meeting the national demand for information assurance education, developing a growing number of professionals with information assurance expertise in various disciplines, and ultimately contributing to the protection of the national information infrastructure.
CyLab responds to the growing demand for Information Assurance Professionals by offering programs for both students and faculty.
Student programs
Students admitted to the Information Networking Institute (INI) graduate program in Information Security (MSIS) and the Heinz College graduate program in Information Security Policy Management (MSISPM) are eligible for participation in the Scholarship for Service (SFS) program. SFS, a scholarship for service program offered by the U.S. of Personnel Management, provides full financial assistance to a few highly qualified applicants each year who satisfy all the requirements.
View detailed information about the SFS program in reference to admission to INI graduate programs.
Faculty fellowship programs
The Information Assurance Capacity Building Program (IACBP) is an intensive, in-residence summer program to help build Information Assurance education and research capacity at colleges and universities designated as Minority Serving Institutions - including, Historically Black Colleges and Universities (HBCUs) and Hispanic Serving Institutions (HSIs).
Results
The IACBP has produced tremendous results, ranging from the creation of new courses, certifications, and degree programs to the development of grant proposals and publications. One participant has been designated as a Center of Academic Excellence in Information Assurance.
Goals
The goals of the capacity building program for faculty from Minority Serving institutions are:
To help build new capacity or expand existing capacity to offer Information Assurance (IA) courses and programs at institutions not currently designated as Centers of Academic Excellence by:
Enabling participating faculty members from non-CAE institutions to develop/expand their knowledge and expertise in the area of Information Assurance
Providing the opportunity for participants to develop curricula and course materials to incorporate new courses in IA into their home institutions' programs and/or incorporate modules on IA into existing courses
To expand the number of Ph.D. level researchers in the IA area by:
Enabling participants to identify links between their current areas of research and Information Assurance
Providing expert guidance and mentoring to help participants begin research projects in IA that are related to their areas of expertise and active research
This material is based upon work supported by the National Science Foundation under Grant No. 0830879.