Collaboratory to share early research at the Eradicate Hate Global Summit
Daniel Tkacik
Oct 13, 2021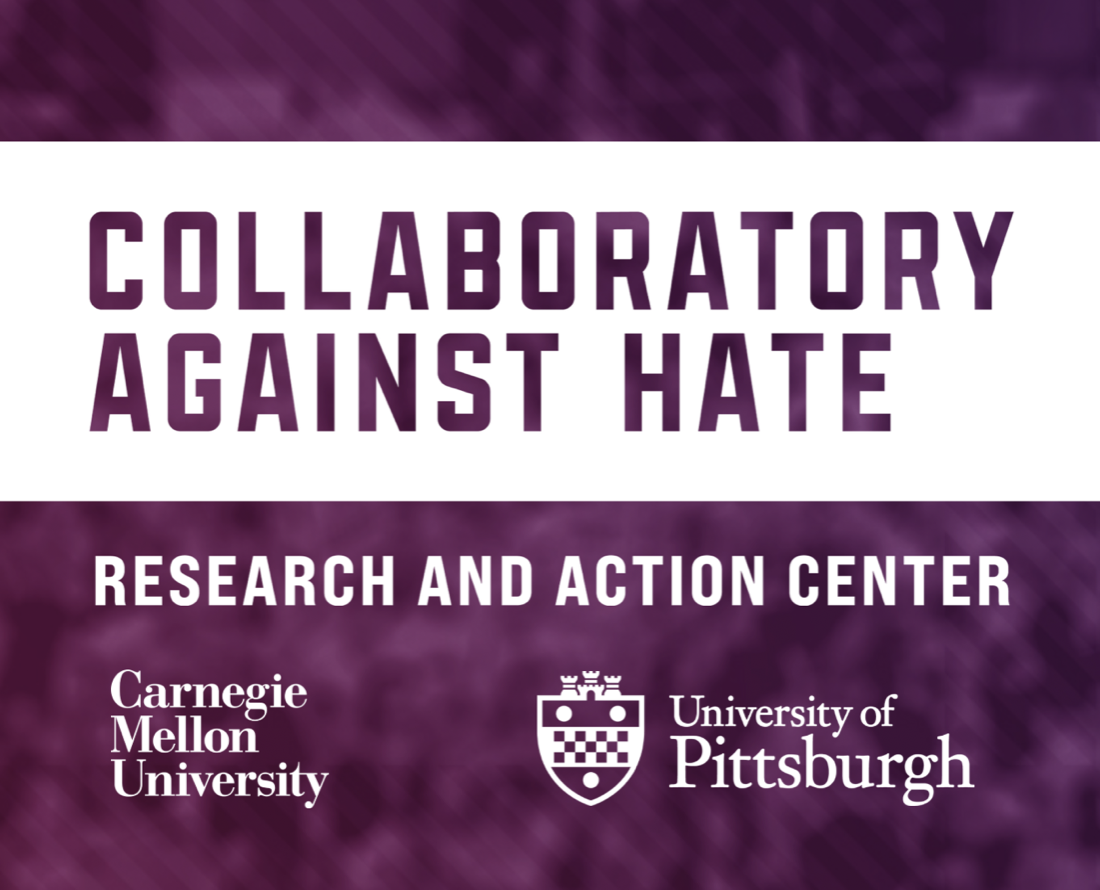 Next week, the Collaboratory Against Hate - Research and Action Center will be taking part in the inaugural Eradicate Hate Global Summit, a hybrid event focused on exchanging ideas around eradicating hate taking place at the David Lawrence Convention Center in downtown Pittsburgh.
Carnegie Mellon and the University of Pittsburgh jointly launched the Collaboratory last March to develop effective tools that inhibit hate's creation, growth and destructive consequences. The group brings together expertise from all relevant disciplines—including computer science, data science, social sciences, psychology, psychiatry, and the law—to better understand and combat hatred based on race, ethnicity, religion, gender identity, sexual orientation, and other prejudices.
"We are excited to showcase some of the work of a diverse set of Collaboratory researchers during this year's Global Summit," says Lorrie Cranor, director of CyLab and a co-director of the Collaboratory. Kathleen Blee, professor of sociology and Dean of the University of Pittsburgh's Kenneth P. Dietrich School of Arts and Sciences, also serves as the Collaboratory's co-director.
We are excited to showcase some of the work of a diverse set of Collaboratory researchers during this year's Global Summit.

Lorrie Cranor, director, CyLab
Both Cranor and Blee will give opening remarks at the Summit, and both will serve as moderators on several panel discussions throughout.
The Collaboratory will host research poster sessions displaying some of the early research out of the group. The posters will show research findings from topics ranging from misinformation and polarization to online prejudice and network dynamics. Research poster titles include:
Polarization: A Multi-Dimensional Approach
Harassment on the Margins
Network Dynamics of Hate Communities
Transformational Games to Eradicate Hate
Preventing Viral Distribution of Hateful Content on Social Media
Combatting Political Misinformation with Intellectual Humility
Why White Supremacist Women Become Disillusioned, and Why They Leave
Examining Protest as an Intervention to Reduce Online Prejudice
Tribe or Not? Critical Inspection of Group Differences Using TribalGram
Anti-Asian Hate Incidents and the Stigmatization of Asian Americans in the Age of COVID
Classification of Unlabeled Online Media to Combat Misinformation
The group will also be unveiling a first-of-its-kind data visualization of the breadth and depth of multiple kinds of hate-fueled incidents that have occurred across the globe over recent years. The data visualization effort has been led and will be presented by David Danks, who serves as a member of the Collaboratory.
Those interested in attending the Summit either in-person or virtually should visit the Summit's registration page.