Eight Carnegie Mellon faculty and staff spoke at this week's RSA Conference
Four INI students also attended as RSA Conference Security Scholars
Daniel Tkacik
Mar 8, 2019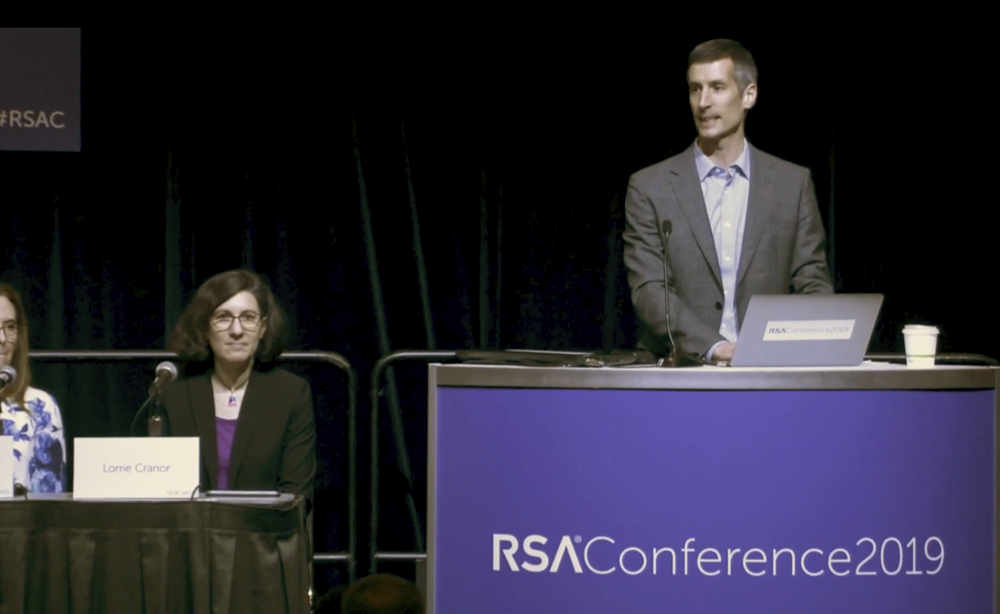 Carnegie Mellon had a big showing at this week's RSA Conference in San Francisco with eight faculty and staff members from across the university spoke about topics ranging from security and human behavior to the security of robot-produced code. The RSA Conference, whose tagline is, "Where the world talks security," typically draws over 40 thousand attendees from around the world each year.
Lorrie Cranor, Director of Carnegie Mellon's CyLab and a professor in the departments of Engineering and Public Policy and the Institute for Software Research, led an all-day seminar titled, "Security, Privacy, and Human Behavior," where researchers discussed what it is about human behavior that makes cybersecurity so inherently difficult. Video footage of Lorrie Cranor's opening remarks can be viewed here. Cranor also moderated a panel titled, "Hacking the Human: Special Edition."
Jason Hong, a professor in the Human Computer Interaction Institute, presented at the seminar on "Security and Privacy Challenges in IoT."
Lujo Bauer, a professor in the department of Electrical and Computer Engineering and in the Institute for Software Research, presented at the seminar about "The Quest for Usable and Secure Passwords." Bauer also served as a panelist on the panel discussion, "Hacking the Human: Special Edition."
Bobbie Stempfley, director of the Cyber Emergency Response Team (CERT) Division at Carnegie Mellon, presented at a session titled, "Prosilience: Moving beyond Operational Resilience," as well as a session titled, "Vulnerabilities: What Is the Future." Lastly, Stempfley gave a talk titled, "From Abstract to Presentation: Diagramming Your Successful Talk," at the session, "She Speaks Security: Gaining Confidence Speaking and Submitting to Speak."  
Hasan Yasar, technical manager and faculty member at Carnegie Mellon's Software Engineering Institute (SEI), facilitated the session, "Speed of Trust," at which a group of security experts discussed different ways to bridge security and agility. Yasar also gave a talk, "Will Your Applications Be Secure Enough When Robots Produce Code for You?"
Randy Trzeciak, Technical Manager of CERT's Enterprise Threat and Vulnerability Management Team and the Director of the CERT Insider Threat Center at SEI, and Brett Tucker, Technical Manager of Cybersecurity Risk at SEI, both spoke at a session titled, "Finding the Right Answers — Facilitating Insider Threat Analysis using OCTAVE."
The final Carnegie Mellon speaker was Jared Ettinger, a cyber intelligence researcher at SEI, who spoke at a session titled, "The State of the Union on Cyber-Intelligence."
In addition to CMU's faculty and staff in attendance, four students from Carnegie Mellon's Information Networking Institute attended the conference as RSA Conference Security Scholars: Nicholas Amon, Ankit Jena, Jamie Thorpe and Era Vuksani.
In addition to a full conference pass, the RSAC Security Scholars had access to a customized and exclusive itinerary that included reserved seating at the opening keynote, an invitation-only dinner with leading experts in the field and a private showing of the RSA Booth on the Expo floor. Each participated in an open poster session, during which Conference attendees were encouraged to drop in and meet the scholars